Plunge into the ultimate health and wellness ritual with the Cryospring Cold + Hot Plunge System.
Features:
Durable air-gap insulated portable drop-stitch inflatable tub 

with triple layer EVA cushioned bottom 

Matching rigid insulating

 

lid with combination locking buckles

TRUE 1hp rotary compressor by Highly-Hitachi with an industry leading 10,407 BTU/h of cooling capacity for 24/7 temperature maintenance - even in hot climates

Powerful water circulation and two stage filtration system with mesh strainer and replaceable filters

Automated ozone sanitation system for natural water purification with fewer chemicals

WiFi enabled for mobile chiller control and schedule automation 
30-day money back satisfaction guarantee
Regular price
$4,990.00 USD
Regular price
Sale price
$4,990.00 USD
Unit price
per
Sale
Sold out
Availability: Ships in 2-3 weeks
View full details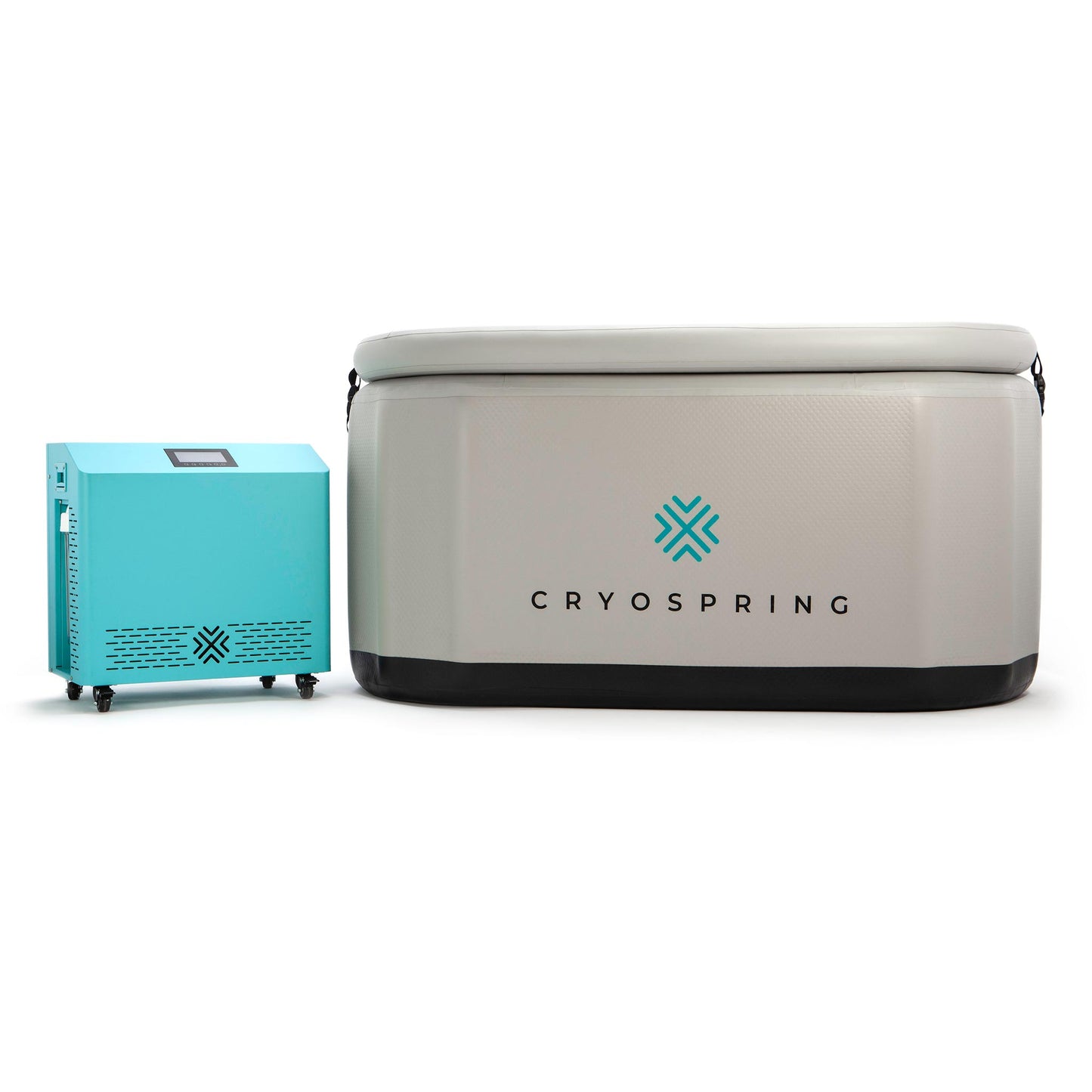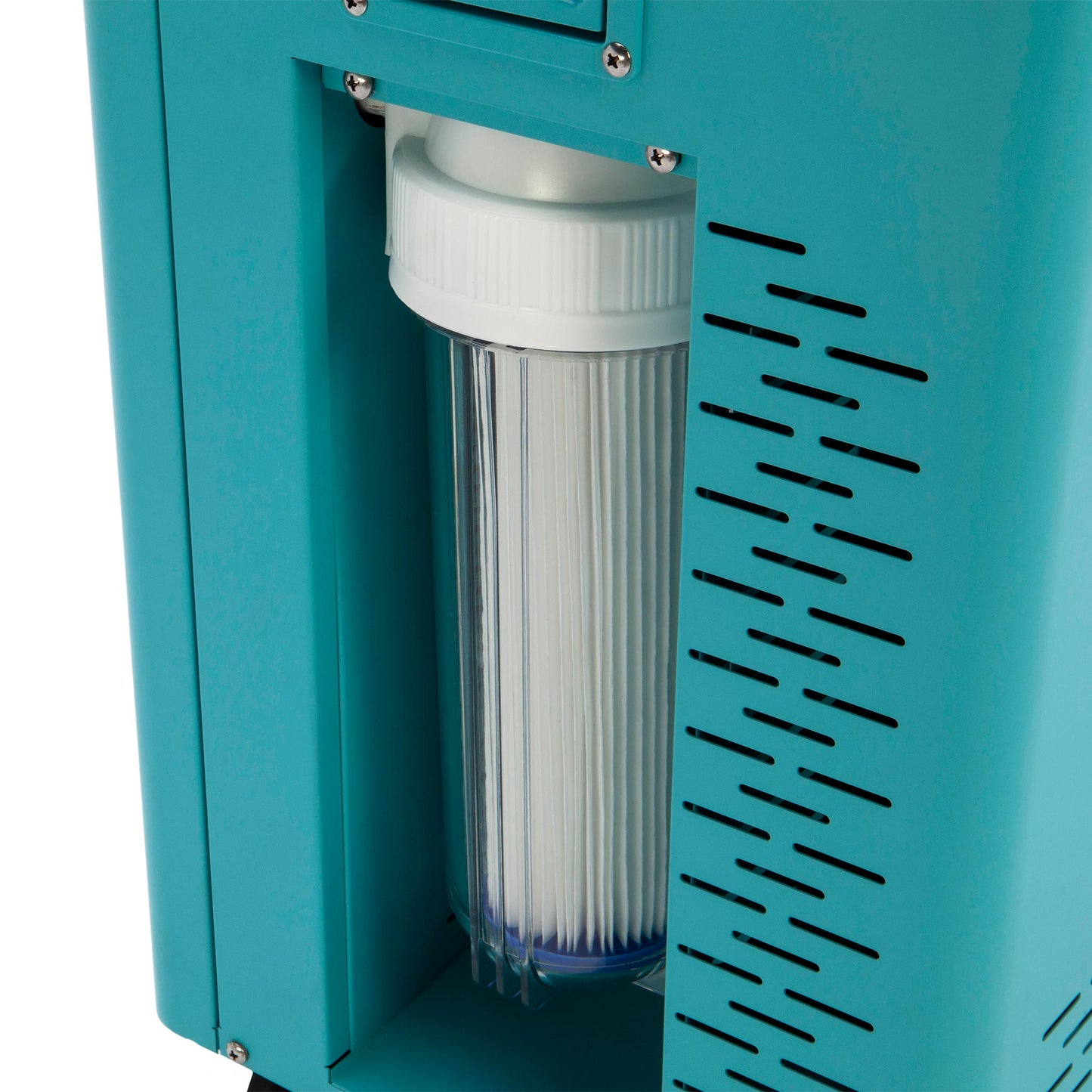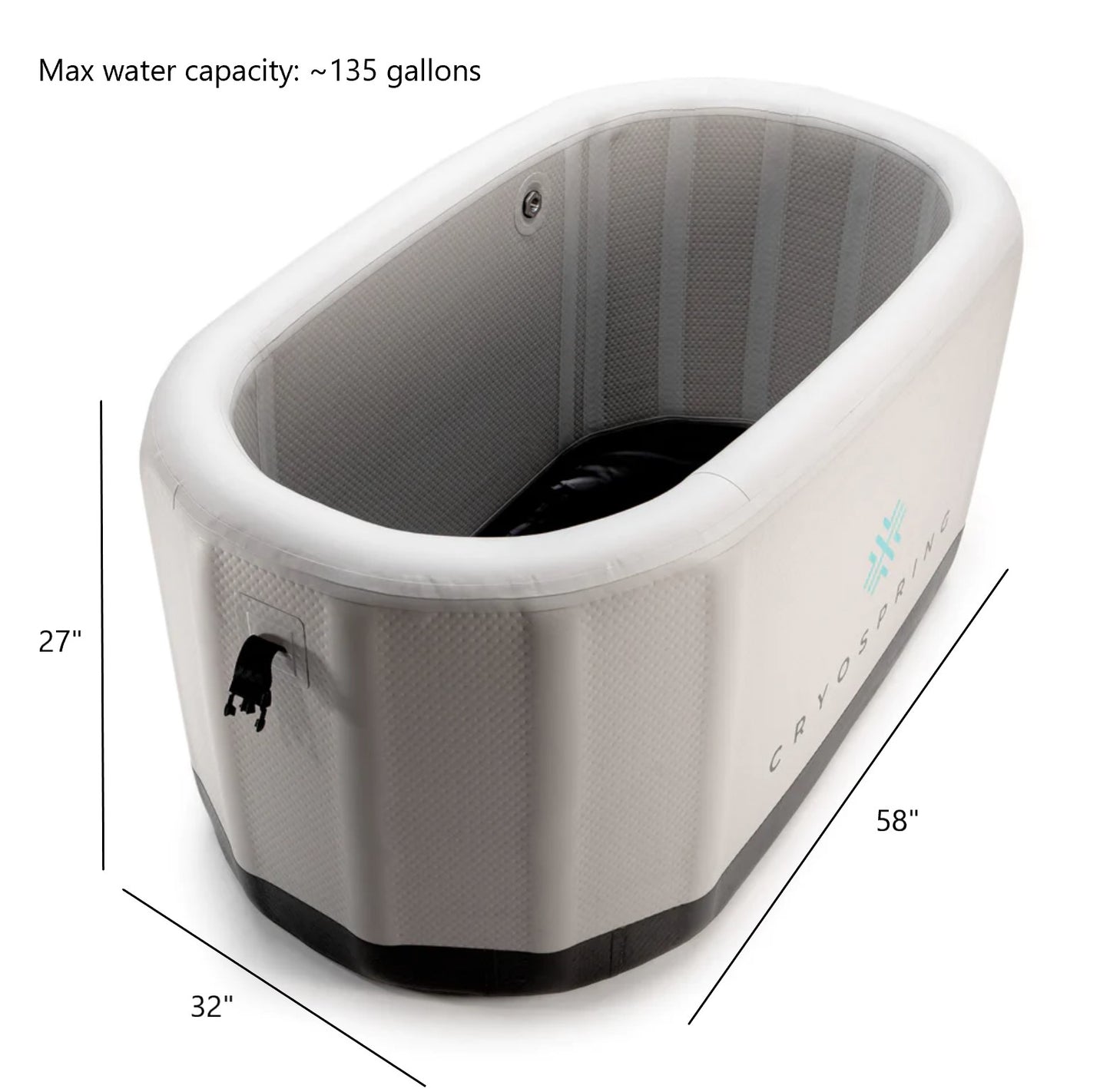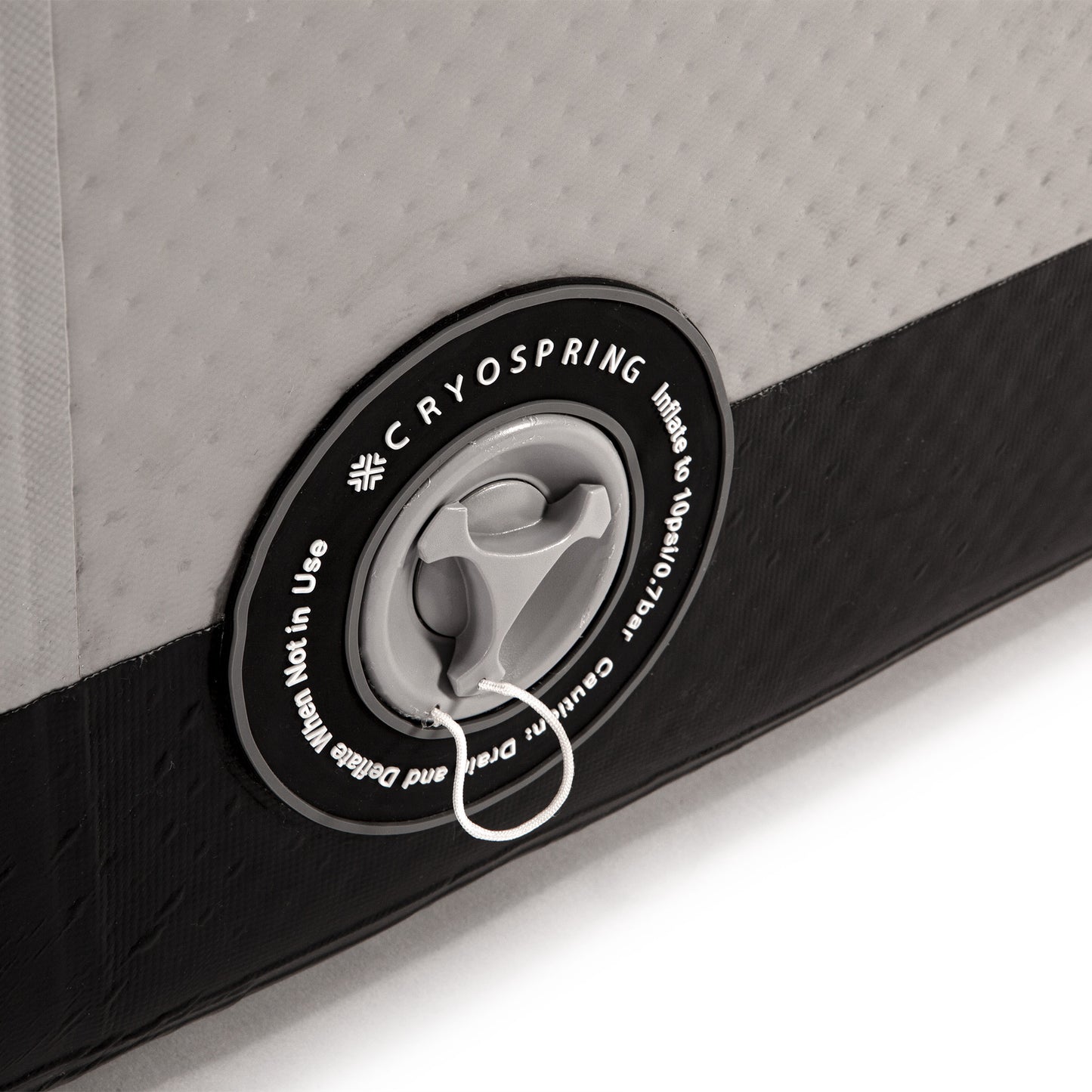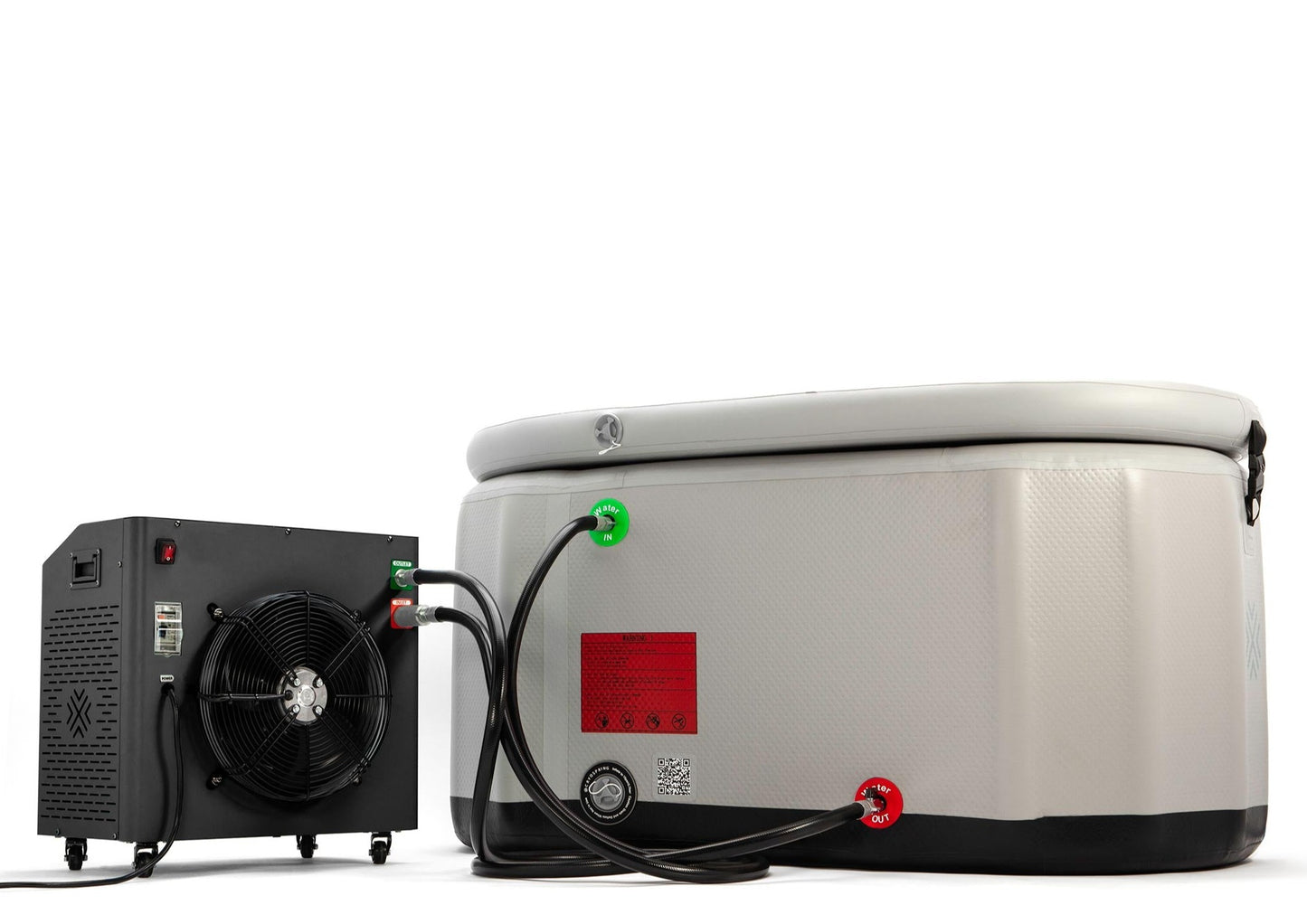 Collapsible content
What's Included

Tub and rigid insulating lid with locking buckles, plus:

Travel backpack

Pump/vacuum

Skimmer net

Garden hose adapter

Suction safety screen

Repair kit

Synching strap

1hp Wi-Fi enabled smart chiller, plus:

Quick connect hoses

20 micron pleated water filters (2)

Mesh pre-filter strainer

Filter housing wrench
Details

Portable Ice Bath

Drop-stitch insulated body and lid with EVA insulated padded bottom

Stainless steel water inlets/outlets

Fits up to 2 adults

Tub dimensions w/o lid: ~59"(L) x 32"(W) x 27"(H)

Max water capacity: ~135 gallons

Empty weight (tub only): ~21.5lbs

Wi-Fi Enabled Smart Chiller

1hp high-efficiency rotary compressor by Hitachi

Self-priming water circulation pump

Water microfiltration system with replaceable 20 micron pleated filters

Automated ozone sanitation system

Folding carrying handles and lockable caster wheels.

Uses a standard 110V power outlet - GFCI protection built-in

Auto defrost freeze protection

WiFi enabled for iOS and Android mobile device control

Dimensions: 21.25"(L) x 15.5"(W) x 21.75"(H)

Weight: 79.25 lbs
Love, love, love. This is the best cold plunge ever.!!
The MOST amazing plunge!
We moved to texas in the middle of the hottest summer on record, and the cryospring cold plunge saved my life! This cold plunge is big enough for 2, and chills quickly and effectively, and the temperature can be accurately set. Now that it has cooled off , i've turned it into a hot tub, and it has just been a lovely experience all around. Also, the customer service is outstanding! adam has answered every question in a prompt manner. i couldnt be happier! recommending it to all of my health conscious friends!!!!
Jean L
Amazing product and customer service
This cold plunge gets and stays cold, awesome product. My real reason for writing this is because of the owner of CryoSprings customer service. Biggggg thumbs up and 5 stars for this company. 👍👍 + ⭐️ ⭐️⭐️⭐️⭐️
Love my new cold plunge
Since the first plunge, I've been doing them daily since. Adam was very helpful when I had questions cleaning the system and troubleshooting. The Wifi is an awesome feature too because the app on your phone allows for a timer to be set for when the plunge comes on. Always ready in the morning as soon as I wake up to get the day started.
Love it
This product has been solid since setting it up. I live in Florida, and it has no problem staying at 55 degrees..
Game Changer!
Very happy with the purchase. Stays super cold even in the Florida summer heat. Highly recommended!
Amazing!
Love this cold plunge! Cold all day and clean water!
Big boy in Florida
This thing is amazing. I live in south Florida and it has no problem getting to temp and staying there. Even after being off for the day it only goes up about 5 degrees in my garage. I am also 6'2" 300lb and I can get completely submerged in the tub with no problem.
The customer support has been amazing as well I had some post setup questions. Called their number and they took all the time I needed to answer my questions. I also emailed a follow up and they got back to me I less than an hour. It's a great product with great support.
Extremely happy!
Received my tub and chiller with no headaches. Easy to set up and works perfect! I live in Arizona where it gets pretty hot and the chiller has no issues cooling the water. I had one small issue when it first arrived and this company was extremely responsive and helpful with getting it fixed. They responded within a few minutes on Instagram even know it was a little later in the evening on a Saturday! Great customer service!! 10/10 would recommend to my friends.
One of the best investments I've ever made!
I LOVE CRYOSPRING! I was using a cheap cold plunge without a chiller and filling it with ice on a day basis for months, and after doing some research, decided to invest in a Cryospring cold plunge. I live in Arizona and it's ridiculously hot here in the summer, so I was curious to see if the chiller unit would be able to maintain 39 degrees when it's 115 degrees outside (I keep my cold plunge and chiller outside on my balcony) and the water is a chilly 39 degrees every morning when I wake up. This is one of the best investments I've ever made. I've seen benefits physically, such as reduced inflammation, increased energy levels, and better sleep. And my mental and emotional health have also seen improvements, which is why I originally started cold plunging. 12/10 would recommend this product!
Protect and Maintain Your Plunge
Regular price

Sale price

$45.00 USD

Unit price

per

Regular price

$120.00 USD

Sale price

$99.00 USD

Unit price

per